Some people are content to stay rooted in one place for their entire lives. Singer-songwriter and multi-instrumentalist Jonah Smith is not one of them.
"Every once in a while, I like to be somewhere new," says Smith, who migrated to Los Angeles in 2013 after spending most of his life in the snowbelt states of New York and Vermont.
That statement could also apply to his music, which seems to cover sonic territory so vast, trying to label it turns into a hunt for elusive adjectives. The truth is, we could use a few new ones to fully convey the landscapes depicted on his Music Road Records debut, Easy Prey (May 20, 2016). Traversing terrain where blues and soul intersect with traditional folk, Smith uses familiar reference points, but leads us to places we haven't been before.
He gets us there with intelligent, yet accessible lyrics sung in a beguiling tenor, coupled with impeccable musicianship — most notably, deft keyboard work that ranges from the twinkly sheen of his Fender Rhodes to elemental honky-tonk blues. It's a sound both urbane and earthy, delivered in a way that feels instinctive, not calculated.
Smith's musical prowess has earned him a few high-profile fans, including America's Got Talent judge Howard Stern. When Smith competed on the show in 2014, Stern labeled his performance "the best thing I've heard in years."
But even before judges and TV viewers heard his talent, fans of Sirius XM's Coffeehouse channel were digging the sweet love song, "Big Umbrella," from his 2013 album, In the Kitchen. (Smith and guitarist Andy Stack did indeed track the entire album — their second stripped-down acoustic recording — in Stack's Queens kitchen.) One captivated Texas listener wound up ordering Smith's entire catalog. Then Smith got invited to perform a private concert in Dallas.
After the show, Smith's host played a Jackson Browne tribute album his label had just released. Its tracks include Sean and Sara Watkins' cover of "Your Bright Baby Blues." Just two nights earlier, Smith had sat in an L.A. club listening to Sara sing that song with his friend (and Easy Prey contributor) Adam Levy, accompanied by surprise guest Browne.
The coincidence seemed fortuitous. That night marked the start of Smith's relationship with Music Road Records, though another invitation — to audition for America's Got Talent — put his recording plans on hold for nearly a year. He made it to the semi-finals — much further than he'd expected.
Performing at Radio City Music Hall for a TV audience of millions wasn't exactly Smith's first rodeo, however. His adventures have included recording with guitarist Bill Frisell and the Band's Garth Hudson; touring with Taj Mahal and Madeleine Peyroux; playing Bonnaroo; and building a large fan base in Spain. Along the way, he's earned accolades from the New York Times, the Wall Street Journal and other major media. With contributions by some special guests, Easy Prey should earn him more.
Jess Wolfe and Holly Laessig of Lucius sing tight harmonies on the irresistible "Make Me Change My Mind," which leavens its propulsive soul-gospel groove with some truly unusual electric guitar breaks by longtime bandmate David Soler.
Another old bandmate, saxophonist Bob Reynolds, announces his return to the fold after several years with John Mayer by blowing intricate lines on the equally captivating "On Love We Can Survive."
Slide guitarist Doug Wamble drips Memphis soul all over the blues shuffle, "Heavy Hangs The Crown," which also features Ruthie Foster's harmony vocals. "I knew I needed somebody who had guts in their voice," Smith says of tapping Foster. Of course, she nailed it.
So did Los Lobos' David Hidalgo on "Turn Down the Moon," a cut full of greased-up, bass-seared funk and sexy soul; the East L.A. guitar master's licks burn with white-hot intensity over its long fadeout.
Smith's ability to lure such talent is a testament to his own craftsmanship. He doesn't remember when he wasn't singing. Piano lessons started when he was 12; songwriting began shortly after. Raised in Syracuse, N.Y., he had plenty of indoor time to develop those talents. But he didn't start sharing his original work with the world till he'd further honed his skills by playing in bands while attending the University of Vermont, where he majored in English and minored in music composition.
Smith's tastes were etched early on by his brother's passed-down classic-rock collection. "He was really into the Grateful Dead," Smith remembers. "I would listen to a Dead record and I'd hear an Elmore James or Hank Williams song and be curious about who those people were, so I would investigate that. I discovered a lot of music that way."
He also became a vinyl collector, just when demand disappeared and bargains abounded.
"That was a cool way to discover music," he says. "I was really, really into soul. My favorite singers were Stevie Wonder, Donny Hathaway, Sam Cooke and Marvin Gaye. Otis Redding and Ray Charles. Then I discovered singer-songwriters. I fell in love with John Hiatt and John Prine and others who had really unique voices."
As his explorations expanded, his style evolved. Smith says his first album, Industry Rule, recorded after he moved to New York City in 2000, reflects the soul and jazz he listened to then.
"Once I discovered who Malcolm Holcombe was, I realized that there was real beauty in writing in the most direct way possible to get your songs across. After that, my songs started to become a lot less ornate," he notes. That was around 2006, when he released a self-titled album as the first artist signed to the revived Relix Records label. In 2009, he would work with another Malcolm — famed producer Malcolm Burn — for the album Lights On. By then, some were applying the Americana label to his music. That works for Easy Prey, which encompasses a wide stylistic range from gospel to funk to folk, blues, and even hints of pop.
But for Smith, it all starts with "the building block of American music: the blues." Almost all of the music that has influenced him over the years, he says, "comes from that basic amino acid."
You can hear it even in Easy Prey songs like "Turn This Ship Around," on which his voice and piano evoke Tumbleweed Connection-era Elton John. He's particularly proud of this one, which addresses climate change and the need for action. "We should not be waiting for a leader to do anything for us," Smith says. "We should be doing it ourselves."
The notion of using song to call for social change is, of course, as old as folk music itself — a realm that also figures in Smith's musical identity. Even before discovering Dylan, Smith was inspired by his aunt, Robin Smith, a '60s folkie and friend of Pete Seeger's who became a nationally known disability rights activist.
She also was a founding member of the Syracuse Community Choir, which accompanied Smith when he sang "Robin, Robin," the album's beautiful closing hymn, at her memorial in 2015.
Like the rest of the songs on Easy Prey, that one comes from the heart and speaks to the soul.
And that, as any judge should know, is the mark of true talent.
Recent Press
WhoSay
Pasadena Weekly (CA)
Relix
Contacts
Booking –  Jonah Smith
jonah@jonahsmith.com
Management – Barry Bookin Management
bookinb@roadrunner.com
Label Contact – Ashley Warren
ashley@musicroadrecords.com
Promo requests– Jesse LaFave
jesse@musicroadrecords.com
Radio– Right Arm Resource- Jesse Barnett
jesse@rightarmresource.com
PRESS KIT
Jonah Smith - Jeff Fasano Photography 1-4 – 
Jonah Smith - Jeff Fasano Photography 1-9– 
Jonah Smith - Jeff Fasano Photography 1-3 –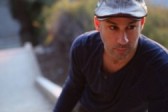 RECENT REVIEWS
MUSIC ROAD RECORDS RELEASES